Kids love Gummy Bears vitamins but did you know that most contain high sugar content and very few vitamins. For example, popular L'il Critters Gummy Vites Multivitamin contains only low levels of vitamins and 3 grams of sugar per serving.
Compare these popular childrens gummy vitamins below and I think you will agree that
DNA Miracles Gummy Vitamins
are far superior. DNA Miracles Gummy Vitamins provides your child with 23 vitamins and minerals, including 100 percent or more of the daily recommended value of 13 nutrients. Compared to its competitors, DNA Miracles Gummy Vitamins is a more complete nutritional formula of the highest quality for less cost per serving, meaning kids are getting more while parents are saving more.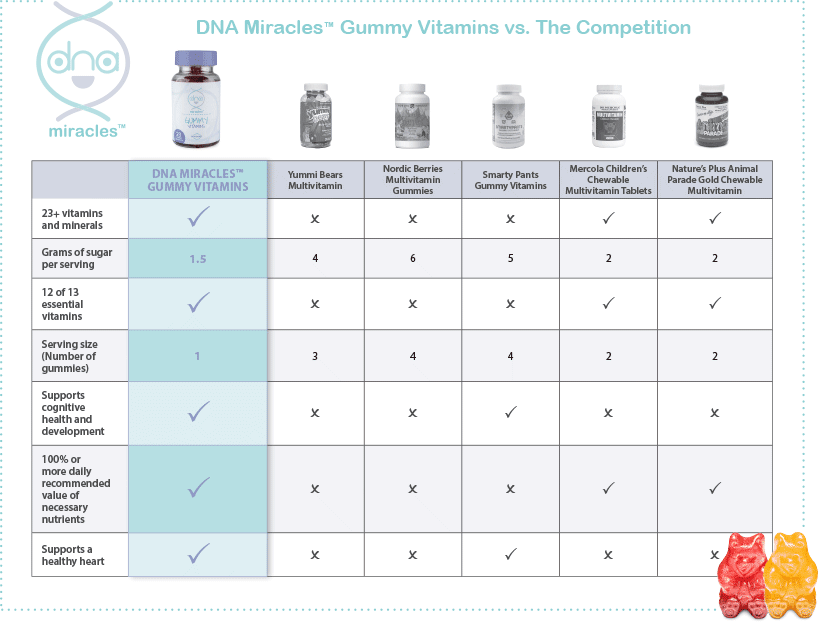 With 23 vitamins & minerals and half the amount of sugar from other leading brands, DNA Miracles™ Gummy Vitamins supports health and development of your child. Because Every Child is a Miracle. Available at
Shop.com